Richard L. Becker
96' Graham Work Boat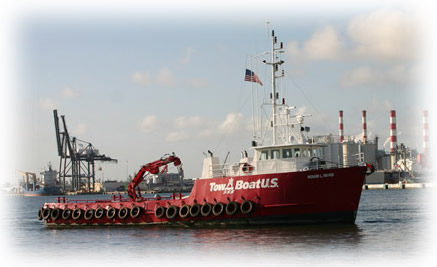 Classification:
Offshore Supply Vessel - Available for Charter by the hour or day
T Boat designation as of 9/01/2004
COI Certification:
42 Passengers on Domestic Voyages
12 Passengers on Intl Voyages
ABS Load Line Certificated
Work Boat available for charter in South Florida
Built:
1976 Graham, Bayou La Batre, LA
Refit Date: 2008 / 2013 / 2018
Dimensions:
Overall Length 96', Beam 24', Draft 8'4", Air Draft 52' 6"
Main Cargo deck 50' x 22'
Mooring Systems:
Danforth Anchor
50,000 lb Line Pull Anchor Winch
Deck Winch:
Manufacturer: Lantec
Barrel: 24"
Flange: 40"
Length: 36"
Pulling Capacity: 25,000 lbs
Wire Capacity: 5,200 ft of 1/2" Wire
Wire Currenlty on Winch:
600 ft of 20mm Hylift Galvanized
Weight Empty: 5,000 lbs
Weight Loaded: 5,785 lbs
Oceanographic Winch:
Manufacturer: InterOcean
Pulling Capacity: 1,000 lbs
Useful for a variety of vessel charter applications
Horizontal Capstan:
Pulling Capacity: 5,000 lbs
Deck Crane:
Manufacturer: Effer / Model: 44 N-55 with winch
Capacities:
9,080 lbs at 5 ft
4,215 lbs at 41 ft
Winch Cable:
210 ft of 5/8" Non-Rotating Wire Rope
Versatile equipment for use by our charter customers
A-Frame:
Pin Height: 16'
Throat: 12'
Max Safe Working Load: 16,576 lbs
Weight: 11,000 lbs
Charter customers find this piece of gear very useful
Accommodations:
Staterooms:
- 2 crew with 5 bunks
- 2 passenger, 1 with 4 berths, 1 with 8 berths

Useful for charters with Male and Female passengers

Full Galley with Barbecue Grill
Lounge Area: TV, Stereo, VCR, Satellite TV and Sirius Radio
WiFi Internet Access via 3G/4G Cellular Network
VSAT Satellite Internet
1
Comfortable and clean accommodations for charter guests
Air Conditioning / Heating:
Number of units: Keel cooled (2)
Central AC
Capacities:
Fuel Oil: 18,743 Gallons
Lube Oil: 150 Gallons
Hydraulic Oil: 100 gallons
Potable Water: 1,056 Gallons with 1000 Gallon per day water maker
Ballast: 27,293 gallons
Cargo: 38 Long Tons
Deck will accommodate 30 pallets
Good endurance compared to other South Florida Charter Vessels
Machinery:
Main Engines: (2) 12V71N Detroit
Generators: (2) 371N Detroit 30KW
Hydraulic Pump: 471N Detroit
Auxiliary Hydraulic ports on work deck 40-50 GPM at 1800-2200 PSI
Welder: AC/DC 208V and oxygen-acetylene torch set
Nato Grid to secure deck loads and equipment
Aft and Wheel House bulkhead pass-throughs
Electronics / Navigation:
SSB: (1) Stevens SEA 222, (1) Stevens SEA 235 with Necoder
VHF: (2) Furuno FM8900S Class-A DSC
AIS: (1) Furuno FA150 Class-A AIS Unit
Hailer: (1) Stevens Loud Hailer
Fathometer: Furuno Dual frequency 50/200 KHz
Radar: (2) Furuno 810D 10 KW, 72/98 Mile range
Autopilot: Robertson AP45
GPS: (2) Northstar 951X
Dell CPU with Nobeltec Navigation software
406 MHz EPIRB
Sat. Phone: Nera Fleet 77 Global internet w/ wifi access fax/phone
Weatherfax
Panasonic PBX system with TDMA and GSM cell service also land line capabilities
Equipment:
Offshore Marine Towing has a full compliment of salvage / dive equipment stored in our Pompano Beach warehouse and our mobile salvage response trailer. This inventory includes a variety of gas, diesel and electric pumps, lift bags, straps, lines, patching materials, underwater epoxy and more. This equipment can be put into service on the Richard L. Becker as needed.
18' Kropf Marine Tender with 60 HP 4-Stroke Yamaha outboard engine, and tow bitt (Weight: 2,400 lbs)
If you have special equipment needs for your charter, please don't hesitate to ask. We work hard to accommodate our work boat charter customers
Fuel Consumption:
Station Keeping - 23 GPH
1400 RPM Cruise (10 Knots) - 34 GPH
At Anchor - 13 GPH
Fuel efficient compared to other vessels available for charter
Range:
Photos
Click on the thumbnails to view the full sized photo.
Workboat Wheel House
Spacious and well equipped workboat galley
Workboat Captain's Quarters
Passenger's Quarters - Up to 12 charter passengers
Drawings & Diagrams
Click on the thumbnails to view the full sized image.
Click Here to Download the CAD Files (.plt)
A-Frame Drawings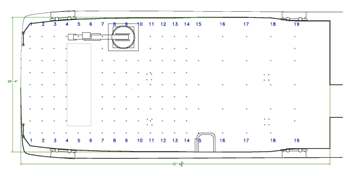 Click Here to Download the AutoCAD File (.dwg)
A-Frame Drawings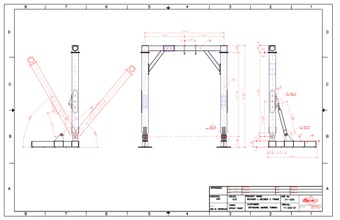 Click Here to Download the AutoCAD File (.dwg)
USBL Pole Flange Drawing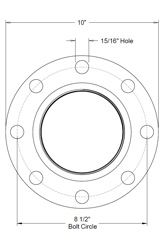 Certificates & Documents
Click on the thumbnails to view the pdf document.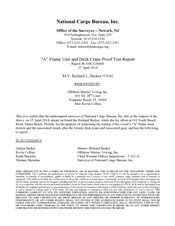 National Cargo Bureau
A-Frame & Crane Proof Test Report