Charter Boat Services
---
TowBoatU.S. Ft. Lauderdale's fleet of work boats is available for long or short term charter, 365 days a year. Ask us about shipping, our fleet of charter vessels can be transported worldwide. The diversity of our charter fleet ensures that we have a boat that will meet all of your needs. When searching for a workboat or general utility vessel for an upcoming project, think of TowBoatU.S. Ft. Lauderdale first. We have a boat to meet your charter needs.
A Charter Boat to Serve Every Need:
Cable Repair
Site Surveys
Salvage Platform
Filming Platform
Film Subject
Dive Support
Survey Work
Research Mission
Crane Services
Chase Boat
Need to charter a larger utility boat with lots of clear deck space? Our 96' O.S.V. the Richard L. Becker can be chartered for a multitude of projects.
The Richard L. Becker has an expansive cargo deck equipped with Nato Grid to secure deck loads and equipment. This minimizes mobilization and demobilization fees, resulting in reduced cost to our charter customers. The vessel is also equipped with a 7.5 ton knuckle boom deck crane. She is based in South Florida but available for charter wherever you have a need.
The Richard L. Becker also has a COI for 42 passengers on domestic voyages and 12 passengers on international voyages. For more information on the Richard L. Becker, click here. Call us anytime to check on her availability for charter.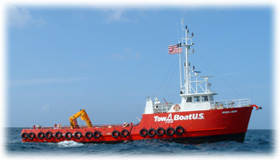 The Lady Katherine is available for charter. Her deck winches and crane will prove useful for a variety of different projects. She is the perfect mid-sized workboat and is available for charter in South Florida. Click here for more info.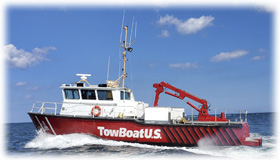 Our 46' Launch Boat is also available for charter. This workboat is great for dive support, survey work, or any project that requires a bit less deck space and range than some of our other charter vessels. Click here for more info.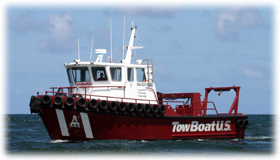 Our 30' SeaArk is also available for hourly and daily charter for use as a work platform for a wide variety of projects. She is unique, there are few charter boats in her size range that are equipped with a hydraulic A-Frame. Click here for more info.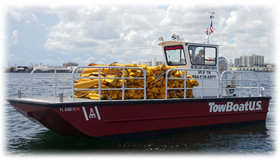 Our smaller vessels are also available for charter locally, nationally, or internationally. These boats are great for fast response, security, film subject, range patrol or any project that calls for a small, fast, and maneuverable boat. We have trailers for most of these boats and can deliver them to distant locations for your charter needs. For more information on our diverse fleet, click here.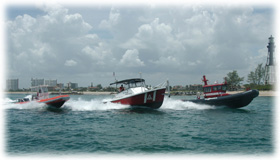 No matter how big or small your project,
we have a work boat to fit your Charter needs!
Please contact our sales department for pricing & availability.