BoatU.S. Membership
---

BoatU.S. (Boat Owners Association of The United States) is the oldest and largest association of boaters, for boaters. For over four decades BoatU.S. has focused exclusively on providing the highest quality boating services, significant savings and a strong voice fighting to protect boaters from unfair taxes and burdensome regulations that take the fun out of boating. With over half a million Members, the dedicated BoatU.S. staff of boating experts has created the largest towing fleet from coast to coast, an extensive network of on the road towers for trailer boaters, an insurance policy with coverage designed specifically for recreational boaters, a network of marinas providing substantial discounts to Members across the country, and so much more.
Here at TowBoatU.S. Ft. Lauderdale we have highly trained dispatchers and captains standing by 24/7 to help you when the unexpected happens. Our local service area covers all of Broward County, Southern Palm Beach County, and 130 miles into the Bahamas.
Bob Apfelberg is glad he has a membership. He says, "When both motors shut down on Gypsy my 42-ft. Sport Fisherman, I was four to five miles off shore. I contacted TowBoatU.S. and their response was exactly as promised. They said they would reach me within 30 minutes, and they did. I found them prompt, reliable, and I can't say enough about their good service."
Russ Belleville says, "I've had a membership with TowBoatU.S. for years and never used it until recently. My outboard motor failed me at the Intracoastal Waterway and Hillsboro Blvd. I called them, and they were there in 20 minutes. The captain assessed the situation, secured my boat and towed me to Pioneer Park. I was glad I had this service, and I feel no boater should be on the water without it."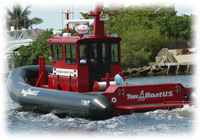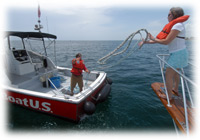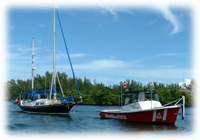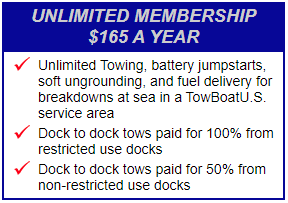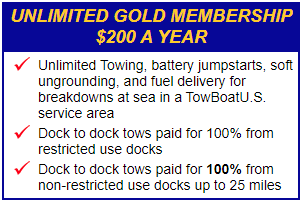 Membership Service Area
Click on map below to enlarge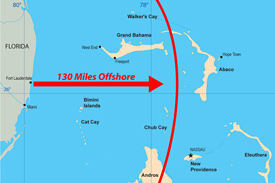 TowBoatU.S. Ft. Lauderdale has numerous tow boats suited for long distance towing from locations beyond our coverage area.  Members also enjoy up to $2,500.00 of reimbursable towing coverage while cruising outside of the Membership service area.

If you are still unsure about becoming a member, here are a few scenarios.
Scenario #1 - Local Tow
You're out on your 28' Proline when your engine quits working. You are 2 miles offshore of Port Everglades and need to go back to the 15th Street Boat Ramp.
Scenario #2 - Soft Ungrounding
You're out on your Morgan 38 sailing vessel when you run soft aground at Tarpon Bend on the New River. See definition of Soft ungrounding Here
Scenario #3 - Tow Home from Bahamas
You're out on your 26' Sea Ray when your engine quits working. You are at Gun Cay in the Bahamas and need to go back to the Marine Max repair facility.
*BoatU.S. pays for 100% of towing fees. Customs fees are additional and responsibility of the member.
Please call us today to begin saving money
and gain peace of mind on the water.